Project Integration Management is the specific responsibility of the project manager andit cannot be delegated or transferred. The project manager is the one that combines theresults from all the other Knowledge Areas to provide an overall view of the project. Theproject manager is ultimately responsible for the project as a whole.●Projects and project management are integrative by nature, with most tasks involvingmore than one Knowledge Area.●The relationships of processes within the Project Management Process Groups andbetween the Project Management Process●Project Integration Management is about:○Ensuring that the due dates of project deliverables, the project life cycle, and thebenefits realization plan are aligned;○Providing a project management plan to achieve the project objectives;○Ensuring the creation and the use of appropriate knowledge to and from theproject;○Managing project performance and changes to the project activities;○Making integrated decisions regarding key changes impacting the project;○Measuring and monitoring progress and taking appropriate action;○Collecting, analyzing and communicating project information to relevantstakeholders;○Completing all the work of the project and formally closing each phase, contract,and the project as a whole; and○Managing phase transitions when necessary


An individual, group or organization who may affect or be affected by a decision , activity or outcome of a project.
Process of Identifying people or groups that can impact or be impacted by the project.
Identify stakeholders early and analyse their importance, interests and stakes. 
Define a strategy to manage stakeholders.
Enables the project team to identify the appropriate focus for engagement of each stakeholder
Identifies key stakeholders that are external and internal to the project.
Identifies the project objectives and initial list of stakeholders
ii. Benefits Management Plan
Documents how and when the benefits of the project will be delivered.
May also identify the people/groups who will benefit from the delivery
3. Project Management Plan
i. Communication Management plan
May include information about stakeholders
ii. Stakeholder ngagement plan
Identifies management strategies and actions required to effectively engage stakeholders
May include a new stakeholder or change the nature of an existing stakeholder relationship to the project
Records issues that may introduce new stakeholders or change the type of participation of existing stakeholders
iii. Requirements documentation
Provide information on potential stakeholders
Can contain references to other stakeholders
6. Enterprise Environmental Factors
Factors that may impact our project but we lack an influence over these factors. 
This includes Government agencies, environment.
7. Operational Process Assets
Process utilized to execute the project. 
This includes historic projects and stakeholder registers from these projects.
Experts help you identify a comprehensive list of stakeholders
i. Questionnaires and surveys
It is a mass information collection tool
Gathering inputs from team members and SME's
Participants are given questions ahead of brainstorming session.
To prepare a list of stakeholders with relevant information such as position in the organization, stakes, expectations, attitudes, interest
Analyze positive and negative impact of each stakeholder
This helps understand the project environment, reveal conflicts of interest, anticipate potential clashes, leverage existing relationships, Identify project champions.
Process includes 

Identify Stakeholders
Analyse and assess
Classify and group
Document
Manage accordingly
Assessing project documents and lessons learnt from previous projects to identify stakeholders
Grouping stakeholders based on power, interest, influence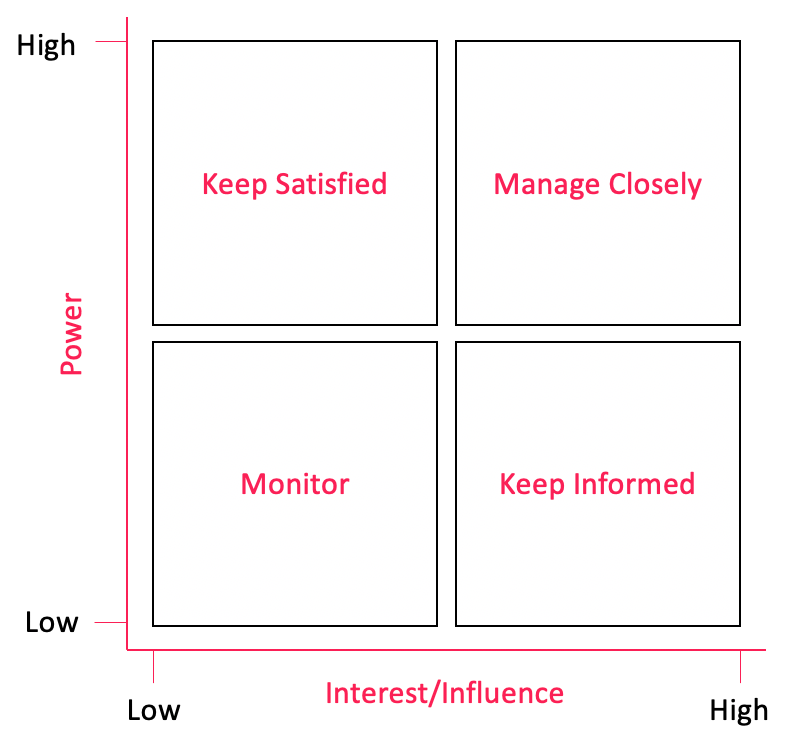 Three dimensional model to group stakeholders based on power, interest and attitude.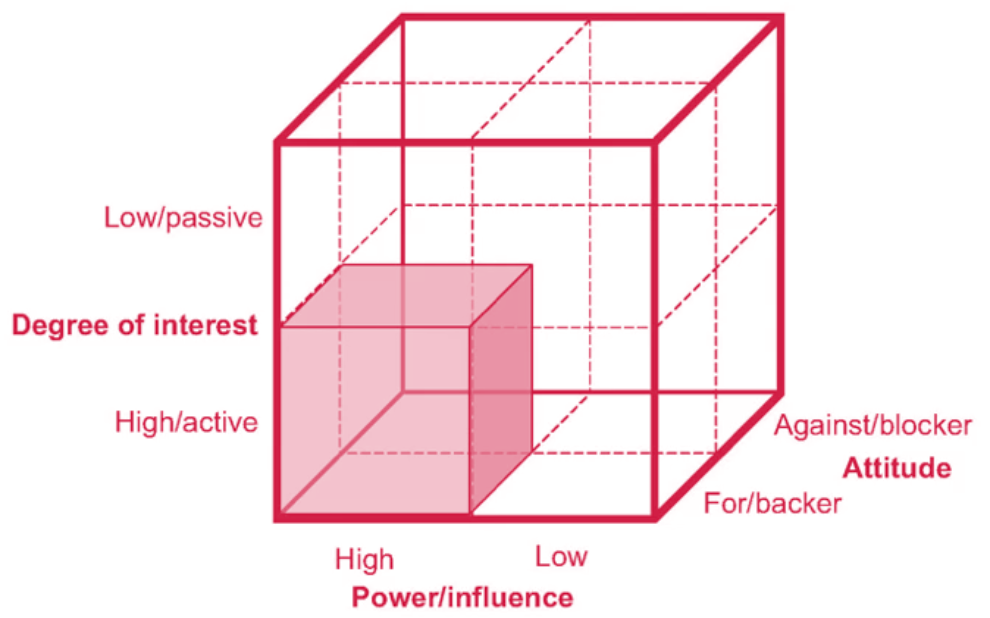 Venn diagram that represents stakeholders in terms of their power, urgency and legitimacy (sometimes proximity)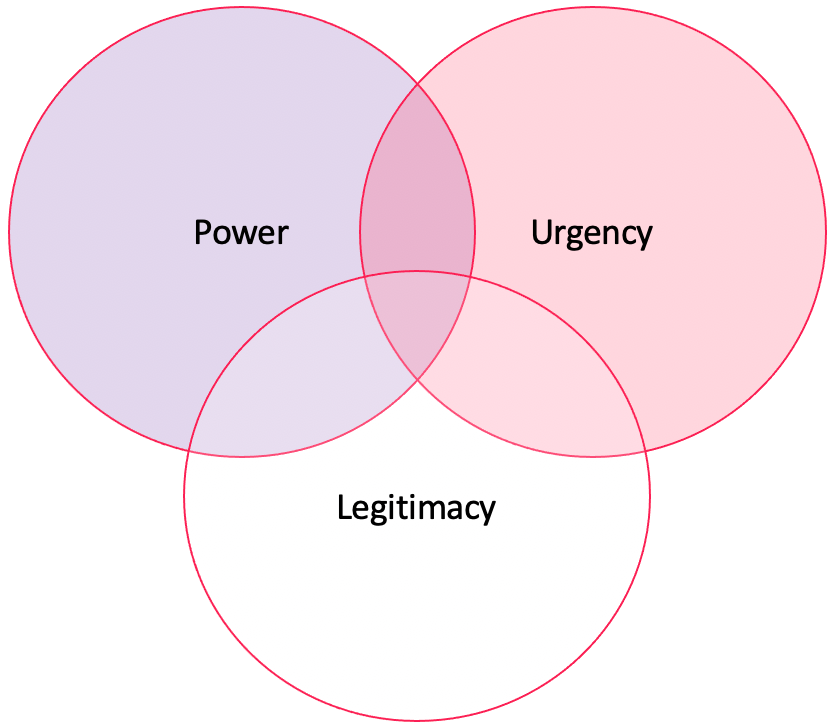 iv. Directions of Influence
Upward: Senior management or sponsors (above PM)
Downward: People you are managing as PM
Outward: Stakeholders outside your organization
Sideward: Stakeholders that are on the same level as you
Useful for large complex projects where stakeholders are changing frequently
To identify stakeholders and exchange information bout different stakeholders.
Contains information about identified stakeholders
i. Identification information
Name, position, location, contact details
ii. Assessment information
Requirements, expectations, influence and project phase of interest
iii. Stakeholder classification
Internal or external 
Supporter or neutral or resistor
Impact or power
Can only implement after approval from Change Control Board (CCB) 
3. Project Management Plan Updates
Updated throughout the project lifecycle as more new stakeholders are known.
Includes

Requirements management plan
Communications management plan
Risk management plan
Stakeholder engagement plan
3. Project Document Updates
Includes

Assumptions Log
Issue log
Risk Register